In this time of great progress, access to clean, quality water has become a priority in our lives.
Clean water is essential for living beings and necessary for industries sustainability.
Pomar Water S.L., is a company formed by a group of professionals with more than 25 years of experience in the development of engineering and manufacturing equipment for desalination, purification and water treatment.
The solutions Pomar designs are applicable in: offshore, naval, civil and industrial sectors.
The products they manufacture are for the treatment of drinking water, irrigated water or industrial processes and comply with quality standards, providing clean and responsible solutions with the environment.
The production of drinking water in offshore installations is necessary to guarantee the quality of its occupants life.
Pomar Water manufactures reverse osmosis equipment that meets the highest quality requirements for the production of drinking water in this type of facility.
Pomars range of equipment for offshore installations also includes osmosis equipment that produces water for the crude oil desalination process.
Pomar designs and manufactures the systems according to the needs of their clients, complying with all the necessary requirements in terms of components, special materials or classified areas for installation on deck.
​
Water productions from 1 to 5,000 m3 / day.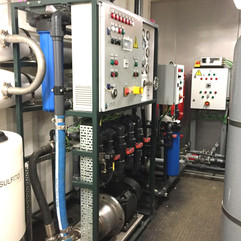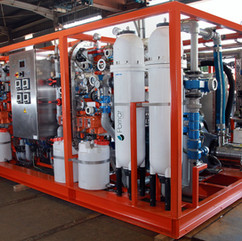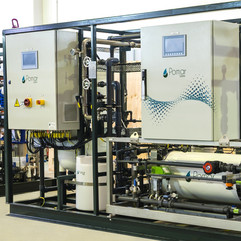 Designed with higher energy efficiency, they produce technical water with a salinity of less than 4ppm for use in offshore platforms and installations.
The water produced in Pomar evaporators can be made drinkable by passing through a mineralizing filter and a disinfection system that will make the water valid for human consumption.
Pomar evaporators can use, as thermal energy for distilled water production, any source of residual heat such as hot water, steam or thermal oil.
The materials used in the construction of our equipment are highly resistant to corrosion by sea water: cupronickel, naval bronze and duplex and superduplex steels.
Pomar equipment for control and treatment of drinking water in offshore installations guarantee the quality of drinking water throughout the installation and have mineralizing filters, multimedia filters, activated carbon filters, fine filtration, dosing systems and sterilization systems that guarantee that the water meets the highest quality standards.
Pomar Water also has systems for the comprehensive control of the quality of drinking water on ships, complying with the recommendations and guidelines of the USPH and NIPH.